Okay, I don't have a blog post here yet even though I've been here for quite a long time now so for starters and to get myself known here or at least my presence be felt;
Here's are the Japanese voice actors for all Crossfight B-Daman in case you need this info ~
TATSUMAKI RASENGEKI!!
Dracyan: Kentarō Itō

Dravise: Takeuchi Ryōta

Dragren: Kōji Yusa

Drazeros: Nobuyuki Hiyama

Dragold: Hiroki Tōchi
Eagle, Sasword, Leohjya, Tigare, Jacker, Bison, Proto 01, Diles:
Nobuaki Kanemitsu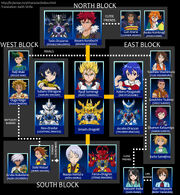 ...and here's for Es~GAROU REPPUDAN!! XD
Garuburn: Kōsuke Toriumi

Beedle, Wolg, Triples: Nobuaki Kanemitsu

Raydra: Daisuke Kishio

Deathshell: Noriaki Sugiyama

Gillusion: Tomokazu Sugita
Okay so I just found out that Garuburn is Strider Hiryu, Gillusion is Ragna the Bloodedge, Drazeros is Siegfried (SUPER COOL!), Dragold is Arngrim, Deathshell is Sasuke and every generic B-Daman is voiced by Nobuaki Kanemitsu. XD
...and I'm so sad that Hiroshi Kamiya didn't came back to voice anyone in Cross Fight B-Daman. T_T
His performance as Teruma Kamioka did left a bite mark on my shoulder. :/
If anyone needs anything related to B-Daman which only has information in Japanese websites, post the link here and I'll glean whatever info I can. :3
Ad blocker interference detected!
Wikia is a free-to-use site that makes money from advertising. We have a modified experience for viewers using ad blockers

Wikia is not accessible if you've made further modifications. Remove the custom ad blocker rule(s) and the page will load as expected.