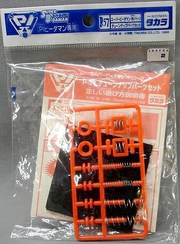 The P-57: Tune-Up Parts Set (Japanese: チューンナップパーツセット, Chūnn Appu-Pātsu Setto) is a Super B-Daman set featuring a Tune-Up Part designed for Battle Phoenix. It released December 1998 for 280円.
Overview
This set includes six Support Strings (two small, two thick and two thin) made specifically for use with Battle Phoenix. Two of these, in red, were later made available with Ultimate Phoenix. Additionally, the set has black stickers to highlight the B-Daman's appearance.
Ad blocker interference detected!
Wikia is a free-to-use site that makes money from advertising. We have a modified experience for viewers using ad blockers

Wikia is not accessible if you've made further modifications. Remove the custom ad blocker rule(s) and the page will load as expected.