Strike Dragren with Quick Loader Magazine is the third Accessory Pack. It was released under B-Daman Crossfire sometime during 2013 internationally.
Contents
Gallery
Trivia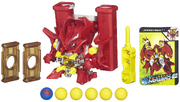 Various online listings incorrectly labeled it as "Strike Dragren with Quick Reload Magazine".
The official, unedited original image for the contents had its Collector Card upside down.
Ad blocker interference detected!
Wikia is a free-to-use site that makes money from advertising. We have a modified experience for viewers using ad blockers

Wikia is not accessible if you've made further modifications. Remove the custom ad blocker rule(s) and the page will load as expected.