Steer Dravise
is a variation of
Lightning Dravise
, released in the
Random Starter 2012
.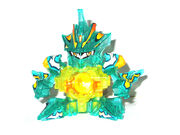 Body Set: Dravise 1
Head Part
With a dragon-inspired design, this Head Part appears as a dragon head wearing a helmet. The helmet extends left and right, carrying an upward slope as well. A horn sits atop the helmet, raised and curved in order to better handle one's grip to the B-Daman. Two spiked straps stick to the B-Daman's face, ending the helmet. Its dragon face offers anime-like violet eyes with a black pupil and white eye-lids. The impression of a chin is also left, slightly curved.
Arm Parts
Designed with bulky shoulder-pads featured with holes for the Stud Parts to go through, two curved blades protrude from their respective arm. The arms end with a large armoured fist and three claws on each.
Stud Parts
The studs are colored orange.
Leg Parts
These feet are teeming with spikes and bumps with the addition of several curves and minor slopes. Two designated areas of this piece are translucent and the feet also feature two "toes". On the bottom of this Leg Part are two hollow spaces for a pair of rollers.
Core Part: Strike/Steer
The Steer Core includes the "Targeting Fins" which is a Trigger pad exclusive to it. Its horizontal shape allows one to shoot with better force in making it as straight as possible. However its Hold Parts suffer a problem Spin also does, where sometimes the marble won't fire straight (sometimes upward) so pushing down on the Trigger compensates for that.
Ad blocker interference detected!
Wikia is a free-to-use site that makes money from advertising. We have a modified experience for viewers using ad blockers

Wikia is not accessible if you've made further modifications. Remove the custom ad blocker rule(s) and the page will load as expected.