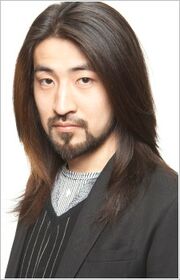 Ryota Takeuchi (Japanese: 竹内 良太, Takeuchi Ryota) is a seiyuu from Hyōgo, Japan. He is affiliated with Arts Vision.
Roles within B-Daman
1. In the Sequel's Setting (Crest Land), what mysteries are you looking forward to? (It could be anything from B-Daman, places, people, events and so on.)
My concern is about the Road Fight.
Back in the old days (Cross Fight), players can register and then, they can get over with B-Daman fair and square! However in this one, the Road Fight feels more like a [Fight] rather than a [Match] because the two players who just met can fight immediately once agreed.
2. Amongst the B-Ders from the WBMA, who do you look forward to see battling again in the future?
A duel of darkness between Kagerou and Basara!
I really want to see them duel because it will be intense as its between Basara whose been obsessed with destroying B-Daman and Kagerou who has a backstory that involves hints of betrayal.
3. Lastly, please leave message for all B-Ders nationwide
Because of the addition of the Emblem Charge function, I think it's possible to formulate more strategies because the technical aspects are now more complicated than the previous system. It will be more fun to play this time around. From the anime, try to imitate the finisher and enjoy using it in a competition as much as you enjoy watching it in the anime.
Other notable roles
Albion (High School DxD New)
Ayato Matsumae (Hanasaku Iroha: Home Sweet Home)
Darui (Naruto: Shippuden)
Father Kujou (Kiniro Mosaic)
Francis Drake (Kyoukaisenjou no Horizon II)
Kitamura (Super Sonico The Animation)
Isaac (Magi: The Labyrinth of Magic)
Ogi (Nichijou)
Ren (Dramatical Murder)
Torayasu Kurami (Cuticle Tantei Inaba)
Gallery
Ad blocker interference detected!
Wikia is a free-to-use site that makes money from advertising. We have a modified experience for viewers using ad blockers

Wikia is not accessible if you've made further modifications. Remove the custom ad blocker rule(s) and the page will load as expected.