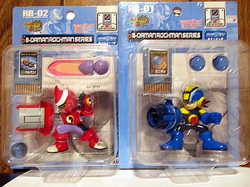 Rockman.EXE B-Daman Series (ビーダマンロックマンエグゼシリーズ, Bīdamanrokkuman'eguzeshirīzu) is a B-Daman side-series that was sold only in Japan. It is based on the Rockman.EXE Axess (Megaman NT Warrior Axess) anime series.
The toyline only came with two figures:
RB-01 Rockman.EXE (MegaMan.EXE): Comes with the MiniBomb Battle Chip and 2 B-Dama.
RB-02 Blues.EXE (ProtoMan.EXE): Comes with a Sword B-Dama, one normal B-Dama, and the Vulcan1 Battle Chip.
Its firing method is achieved by pressing two buttons on the "Busters".
Trivia
The Battle Chips also can be used in the toy PETs (PErsonal Terminal).
Battle Chip Descriptions (In Games)
Minibomb: Throws a bomb 3 squares.
Vulcan1: 3-shot to pierce 1 panel!
Ad blocker interference detected!
Wikia is a free-to-use site that makes money from advertising. We have a modified experience for viewers using ad blockers

Wikia is not accessible if you've made further modifications. Remove the custom ad blocker rule(s) and the page will load as expected.