Official Field Set
オフィシャルフィールドセット
Information
Product Code
BM-10
Price
2,625円
Contents
B-Daman Included
Pen-B Blue Clear Ver.
Version-Up Parts Included
None
No. of B-Dama
7
Release Dates
Japan
August 28, 2010
English
None
The Official Field Set (Japanese: オフィシャルフィールドセット, Ofisharu Fīrudo Setto) is the first-ever Game Tool and field released under the Cross Fight B-Daman toyline. It retailed for 2,625円 with an August 28, 2010 release in Japan.
Contents
Pen-B Blue Clear Ver. - Clear blue body. 
Official Field frame
2 Heavy Targets (50 points each)
2 EZ Targets (50 points each)
1 Wide Target (10 points)
4 Vertical Targets (10 points each)
1 Sheet
1 Lucky Spot (100 points)
1 Safety Warning
ST Mark
7 B-Dama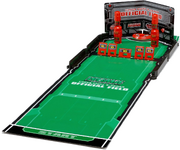 The Official Field consists of a rectangular, green cardboard designed with a green WBMA logo and the words "CROSS FIGHT B-DAMAN" and "OFFICIAL FIELD" in white. A black border surrounds it with white highlights. Also, the designated play area is marked with the word "START" where this field begins. However in order to complete it, the four Vertical Targets are set as black, prism-esque holders attach to the Official Field frame and a "Sheet" is placed between the holders and secures them. The sheet features details including "CROSS FIGHT B-DAMAN" and "OFFICIAL FIELD", the Cross Fight B-Daman and WBMA logos in red over a gray, factory-like background.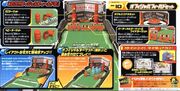 This field, like others, lets players create any game utilizing the included items. The most practical are the Targets: harboring the classic EZ variant and a new addition: "Heavy Targets". Being larger, they are twice the size and capacity as EZ Targets for increased marble storage and overall difficulty. Also included are smaller, rectangular targets designed with square holes.
Two game types are advertised in the packaging. These include curving the Target Plates whilst lining up the Vertical Targets and placing the EZ Targets on top of the Heavy Targets. The other depicts blue EZ Targets between them placed in a bowling pin-like fashion and four other Vertical Targets.
Ad blocker interference detected!
Wikia is a free-to-use site that makes money from advertising. We have a modified experience for viewers using ad blockers

Wikia is not accessible if you've made further modifications. Remove the custom ad blocker rule(s) and the page will load as expected.