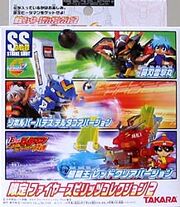 Limited Fire Spirits Collection 2 (Japanese: 限定ファイヤースピリッツコレクション2, Gentei Faiyaa Supirittsu Korekushon 2) is the second and last Limited Collection of the Battle B-Daman: Fire Spirits! toyline, succeeding the first Limited Fire Spirits Collection. It was released in Japan only in June 2005, and sold for 924円. As with all Collections, there is a 1/3 (approximately 33.3%) chance to obtaining any specific B-Daman and in this case, one of three Strike Shots can also be obtained.
It was only released on June 24, 2005 in Japan for 924円.
Contents
Trivia
Ad blocker interference detected!
Wikia is a free-to-use site that makes money from advertising. We have a modified experience for viewers using ad blockers

Wikia is not accessible if you've made further modifications. Remove the custom ad blocker rule(s) and the page will load as expected.