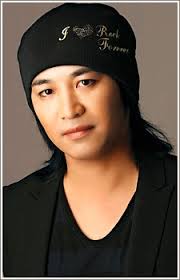 Kousuke Toriumi (Japanese: 鳥海 浩輔, Toriumi Kōsuke) is a seiyuu from Kanagawa, Japan. He is affiliated with Arts Vision. He is also part of the Nazo no Shin Unit STA☆MEN along with Daisuke Kishio and Hiroyuki Yoshino.
Roles within B-Daman
1. In the Sequel's Setting (Crest Land), what mysteries are you looking forward to? (It could be anything from B-Daman, places, people, events and so on.)
My concern is moreover about what happened to the previous setting before Garuburn's re-encounter with Kamon.
What if the battles have no rules just like that of Road Fight.
And then, when the story about why Kamon and Garuburn lost their memories would be clear in the future when more characters start appearing.
2. Amongst the B-Ders from the WBMA, who do you look forward to see battling again in the future?
The boy wearing dotted half-pants really had an impact on his last appearance... *laughs*
And also, the macho with dreadlocks whose large build really got me interested because that's something you don't really see with schoolboys.
3. Lastly, please leave message for all B-Ders nationwide
Always follow the rules and have fun with B-Daman!!
Other notable roles
Akira (Togainu no Chi)
American DJ (Metal Fight Beyblade)
Hajime Saitō (Hakuouki series)
Eikichi Mishina (Persona 2)
Junpei Iori (Persona 3)
Hayate (Prétear)
Hong Yun-seong (Soul Calibur series)
Phoenix Wright (Ultimate Marvel vs Capcom 3)
Yuri Lowell (Tales of Vesperia)
Gallery
Ad blocker interference detected!
Wikia is a free-to-use site that makes money from advertising. We have a modified experience for viewers using ad blockers

Wikia is not accessible if you've made further modifications. Remove the custom ad blocker rule(s) and the page will load as expected.