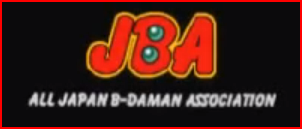 The 
All-Japan B-Daman Associaton 
(
JBA 
for short), was the sanctioning body for the B-Daman hobby since the mid-1990s, featured in
Super B-Daman
,
Battle B-Daman
, and
Crash B-Daman
. As the name suggests, the JBA was the Japanese sanctioning body for B-Daman, and usually host tournaments and special events. In
Battle B-Daman
, it went by the "
Japan B-Daman Association
" 
(but still kept the JBA initials), the 
International B-Daman Association 
(
IBA
) to Western audiences, and 
Korea B-Daman Association 
(
KBA
) to South Korean audiences.
Super B-Daman 
Battle B-Daman
In Battle B-Daman, the IBA is the worldwide sanctioning body for B-Daman in the B-DaWorld, hosting tournaments and events throughout. Every year, they host their biggest tournament, the IBA Winners Tournament.
Crash B-Daman
The JBA, again is the sanctioning body for B-Daman. They promote peace through the sport of B-Daman, that which drew contempt from the Saionji Konzern as a matter of principle, since the latter creates destructive weaponry. The JBA also host the B-1 Crash Cup.
In Real Life
The B-Daman sactioning body is just Takara-Tomy (Takara at the time) hosting B-Daman tournaments and events in real life, sometimes with help from CoroCoro Comic. The logo, or at least the initials, can be found on certain B-Daman products.
Status
It was renamed to the WBMA for B-Daman CrossFire and B-Daman Fireblast.
Ad blocker interference detected!
Wikia is a free-to-use site that makes money from advertising. We have a modified experience for viewers using ad blockers

Wikia is not accessible if you've made further modifications. Remove the custom ad blocker rule(s) and the page will load as expected.