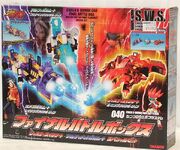 The Final Battle Box (Japanese: ファイナルバトルボックス, Fainaru Batoru Bokkusu) was a set that as its name suggests, was the last product released in the Crash B-Daman toyline. It saw release on October 19, 2006 in Japan, selling for 1890円.
It would become the last B-Daman release until the advent of the short-lived Metal B-Daman series.
Contents
Gallery
General
Justice Ifrit: Burning Version
Alpha Bahamut: Raging Version
Omega Bahamut: Raging Version
Trivia
Alpha Bahamut's clear blue green runners were a re-cast from the originally gray-colored runners of Reflect Wyvern which is why you would end up with two extra clear blue green shoulder parts.
Ad blocker interference detected!
Wikia is a free-to-use site that makes money from advertising. We have a modified experience for viewers using ad blockers

Wikia is not accessible if you've made further modifications. Remove the custom ad blocker rule(s) and the page will load as expected.