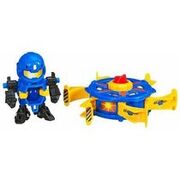 The Exploding Puck is a Target Challenge released by Hasbro in 2005 for the Battle B-Daman toy line.
Contents
IBA Body - Blue Skeleton with black arms and legs and a set of yellow Hold Parts and a Trigger.
Exploding Puck - A variant of the B-DaPuck with a set of flaps that flip outward when its wind-up mechanism runs out of energy.
Objective
The objective of the Exploding Puck challenge is to shoot the Puck onto your opponent's side of the battlefield before it could explode, while he/she does the same.
Gallery
Trivia
Ad blocker interference detected!
Wikia is a free-to-use site that makes money from advertising. We have a modified experience for viewers using ad blockers

Wikia is not accessible if you've made further modifications. Remove the custom ad blocker rule(s) and the page will load as expected.