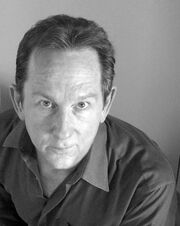 Dave Mallow is an American voice actor.
Roles within B-Daman
Other notable roles
Akuma (Street Fighter series, Marvel vs Capcom 3, Ultimate Marvel vs Capcom 3)
Announcer (Soulcalibur IV)
Ieyasu Tokugawa (Warriors Orochi)
Kanra (Durarara!!)
Merlock Holmes (Flint Time Detective)
Paul Phoenix (Tekken 6, Tekken Tag Tournament 2)
Pyoro (Vandread)
Oolong (Dragon Ball)
Ad blocker interference detected!
Wikia is a free-to-use site that makes money from advertising. We have a modified experience for viewers using ad blockers

Wikia is not accessible if you've made further modifications. Remove the custom ad blocker rule(s) and the page will load as expected.