B-Daman CrossFire
Comments

20
428pages on
this wiki
This article is for the anime series. For the toyline, see B-Daman CrossFire (toyline).
B-Daman CrossFire


Genre
Action-adventure, Drama, Comedy
TV anime
Director
Yoshinori Odaka
Studio
d-rights (concept)
HALF H·P STUDIO (sound)
Synergy SP (animation)
Licensor
SUNRIGHTS INC.
English network
TV Tokyo (Japan)
Original run

October 2, 2011 (Japan)

– September 30, 2012
September 2013 (International)
Episodes
52 (26 overseas)
Preceded by
Crash B-Daman
Succeeded by
Cross Fight B-Daman eS
B-Daman CrossFire (Japanese: クロスファイトビーダマン, Cross Fight B-Daman) is the first B-Daman anime of the Cross Fight series and the seventh B-Daman anime series, overall. Premiering on October 2, 2011 in Japan, it became the first B-Daman anime to air in almost five years, following the finale of Crash B-Daman on December 25, 2006. Its last episode, Conclusion! The Immersing Cross Fight aired on September 30, 2012 in Japan. A sequel series, Cross Fight B-Daman eS, premiered the following week.
It is scheduled for a tentative release across global markets outside of Asia in September 2013.
On June 3, 2011, toy giant, Takara-Tomy revealed that a new anime series to be based on the latest revival of the B-Daman toys, Cross Fight B-Daman, was green-lit for fall 2011. Slated to premiere on October 2, 2011 through Japanese television network, TV Tokyo and other channels as previous B-Daman anime have. Set on time, the anime aired on the 8:45 AM JST time-slot, Sunday morning following an airing of Metal Fight Beyblade 4D.
26 episodes were ordered but due to the growing popularity of the Cross Fight B-Daman toyline, an additional serving of 26 episodes aired. This brought the anime up to 52 episodes, around the ideal number for toy-based anime. While the series concluded on September 30, 2012, its sequel premiered the following week.
On September 28, 2012, d-rights created a promotional poster for use at a trade show. Showcasing a preliminary English logo concept, d-rights was seeking possible companies and networks interested in licensing the anime abroad. Not long after on October 18, 2012, the trade show turned out a success with dub the series in English and other languages, as well. An international name of "B-Daman CrossFire" was chosen along with a tentative release for autumn 2013.
Much later on April 8, 2013, d-rights neared completion in negotiations with Hasbro for release outside of Asia. To compensate for this, d-rights' parent, Mitsubishi, opened up a dubbing company specialized for international dubs called, SUNRIGHTS INC. Based in Albany, New York in the USA, they are expected to dub CrossFire in English with general releases in September 2013.
B-Daman CrossFire follows Kakeru Ryugasaki, a young boy who eventually discovers a particular game called, B-Daman. One day, he finds a B-Daman of his own named, Thunder Dracyan. Thunder Dracyan is inhabited by a B-Animal, mystical beasts trapped in the form of B-Daman figures.
Kakeru soon discovers how Dracyan's B-Animal is one of the Legendary Dragons, specifically the "Blue Dragon". His friend and rival, Subaru Shirogane also owns one of these Dragons, the "White Dragon" in his Lightning Dravise. Together, they uncover a mystery and legend regarding these Dragons and plans by certain individuals seeking hegemony through them.
As a result, Kakeru and Subaru divulge themselves more into the sport of Cross Fight, learning the various new game types, mechanics and such while as they plan to thwart any B-Der wishing to rule the world. As simultaneously, they meet friends and enemies in what climaxes into B-Daman CrossFire.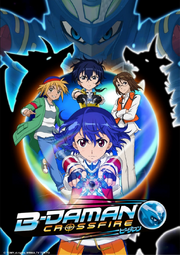 Dragon B-Ders
Edit
East City
Edit
West City
Edit
South City
Edit
North City
Edit
Main article: List of B-Daman CrossFire episodes
The B-Daman CrossFire series has used one opening theme and one ending theme in its Japanese run, as per the previous series, Super B-Daman, Battle B-Daman and Battle B-Daman: Fire Spirits!. The opening theme is titled "TRUTH" whilst the ending theme is titled "Whereabouts of the Winged". Both are performed by Rin.
External Links
Edit