Break Bomber Battle Stadium
None
Information
Product Code
None
Price
40,000 원
Contents
B-Daman Included
Loading=Diles
DHB Cobalt Blade
Version-Up Parts Included
None
No. of B-Dama
20
Release Dates
Japan
N/A
English
N/A
The Break Bomber Battle Stadium (Korean: 브레이크 봄버 배틀 스타디움) is a Sonokong-exclusive set released under their Cross Fight B-Daman toyline sometime in 2012.
Contents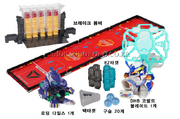 What is interesting about this set is that Sonokong decided to package a DHB Cobalt Blade, B-Daman Tournament Set and Battle Puck in a Cross Fight B-Daman product, despite the aforementioned items being foreign to it.
Although unrelated, the B-Daman Tournament Set works perfectly for Cross Fight play; specifically the game of Break Bomber. Unlike Hasbro's iteration of it however, the walls are now thinner and black; perfectly so that they can now fit solidly with the multitude of holes present on the B-Daman Tournament Set play field, which has now adopted a crimson colour scheme.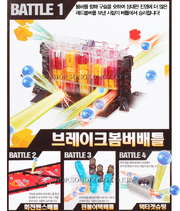 Other than the usual game of Break Bomber, three other game modes with a "BATTLE" heading are promoted. They are as follows:
BATTLE 1: A Break Bomber match to become the first B-Der to knock 3/5 red blocks in the Break Bomber game piece onto your opponent's territory just as they do the same to you.
BATTLE 2: Use an extra black hole to cover a large portion of the shooting area; designed to provide a challenge of using one's B-Dama to traverse it.
BATTLE 3: Utilize the B-Dama to knock all EZ Targets in this target challenge.
BATTLE 4: Two players go head-to-head as they continually barrage B-Dama targeted at the Battle Puck in order to bring it into their opponent's field of play.
Trivia
Ad blocker interference detected!
Wikia is a free-to-use site that makes money from advertising. We have a modified experience for viewers using ad blockers

Wikia is not accessible if you've made further modifications. Remove the custom ad blocker rule(s) and the page will load as expected.